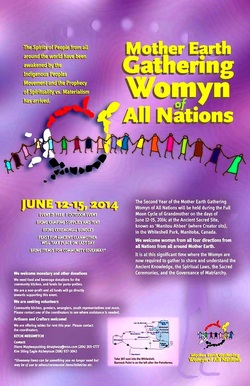 The "Mother Earth Gathering Womyn of All Nations" event will commence again for its 2nd year this spring on June 12, 13, 14, and 15 – 2014; in collaboration with the fullness of Grandmother Moon at the Whiteshell Park in Manitoba, Canada. This sacred place is also known to the Indigenous people as "Manitou Ahbee" where the Spirit sits, and the place where the stone formations (petroforms) are situated.
The vision of the Womyns Gathering was inspired by the finding of an Ancient Indigenous Ancestor who was found with a Buffalo Skull in the Whiteshell area, she was carbon dated to be 6,500 years old. She is evidence of one of the many prophecies foretold by the Indigenous people that ancestors would reappear at a significant time to assist the people when changes are to come upon Mother Earth.
Womyn of all nations, races and cultures from all directions around the world are welcome to join four days of gathering to heal, to teach, to celebrate and to reconnect as womyn with Grandmother Moon and Mother Earth. This year's hosts and organizers are from various communities of Manitoba, Ontario, and Saskatchewan. Last year, we had close to about 500 participants of women, children, youth, and elders who attended the event, and this year we are expecting a many more.
This year's agenda includes: Tours of Bannock Point and Tie Creek; Mother Earth, Grandmother Moon, and Women knowledge; Midwifery and Doulas; Sacred Women and Sacred Moon Time; Ancient Star Knowledge; Medicinal Plants and Foods; The Prophecy of the Ancient Ancestor found in the Whiteshell; White Buffalo Calf Woman Teachings; The Rose Teachings; Sacred of Web of Life (the energy field of the Universe); Divisions, Separateness, Colonization (the illusion); Clan Mother Governance and the Great Law of Peace; The Prophecy of the Seventh and Eighth Fire; Clan Teachings; and with Medicine Gathering, Sweat Lodge Ceremonies, Blanket Ceremony, Naming Ceremony and a Full Moon Ceremony.
This year's event will be hosted and organized by a number of Womyn from various nations and cultures, the two main organizers are Kim Atcheynum and Diane Maytwayashing (who provided the vision of the Womyn Gathering in the Whiteshell). The event is free, those who attend need to support by donations of healthy food to share, water, firewood, or cash donations for a water truck and portable toilets for 4 days. All meals are shared, camping in area is free, attendees have free access into Whiteshell Park, and free parking onsite.
Registration and donations can be made by (PayPal) on Even Page of the Mother Earth Gathering Womyn of All Nations on Facebook
https://www.facebook.com/events/1406667059567545/
Cheque donations can be made out to - Kim Atcheynum. Great thanks, for more information about the Mother Earth Gathering Womyn of All Nations contact Kim Atcheynum telephone: (306) 937-3043 in Saskatchewan email:
[email protected]
or Diane Maytwayashing in the Whiteshell telephone: (204) 205-1777 and email:
[email protected]