Hello! Boozhoo! Tanisi! Aaniin! Han! Wottziye! Hau! Bonjour!

Thanks to All for making our Conference and Banquet a Success!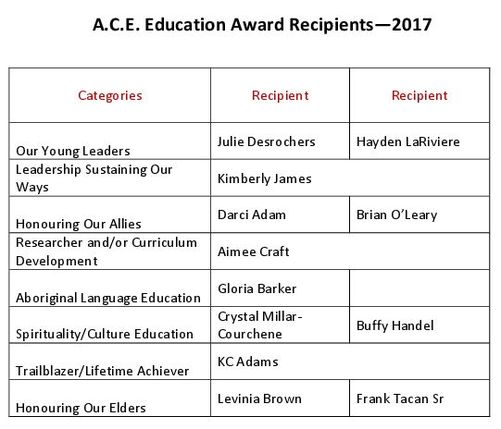 The Aboriginal Circle of Educators are celebrating more than 25 years of promoting Aboriginal perspectives in classrooms and communities throughout Manitoba.
The ACE Conference was held on
February 16-17, 2017 at the Best Western Plus Winnipeg Airport Hotel, 1715 Wellington Avenue.
Browse our BLOG for Updates
The 11th Annual ACE Education Awards Banquet was held on Thursday, February 16, 2017.

We had an amazing slate of recipients this year!

Check out their accomplishments on our Education Awards page





Monthly Member Meetings of the Aboriginal Circle of Educators are held the second Monday of every month during the School Year at 4:30pm

If you are interested in being more involved in ACE and what we do, consider becoming a member of our Board.
Consider becoming a MEMBER of the Aboriginal Circle of Educators to keep abreast of everything happening in the organization.
---